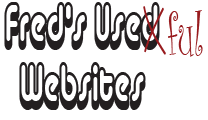 This page and its sub-pages are here to demonstrate the types of navigational links you can have on your site. 

A website normally has a number of "main" pages.  These pages are reached by clicking on the main links at the top of the page.  When you are on the main pages on this site, we also allow you to select sub-pages of each main page by providing a set of drop down links.

Try browsing the pages under this main page to see alternative methods for your links!

To get a real feel for how each type of navigational links, use the links below to temporarily change the type of links for this whole site.  Eventually the site will return to the default link style or you can reset the style here.

You may choose from the following styles. Once selected, read about the features of this style, then try looking at other pages.  Drilling down the "Navigation" set of pages will help you see the effects of each style.
---
Copyright © Useful Media Planet, LLC, All rights reserved.
Powered by Fred's Used Websites